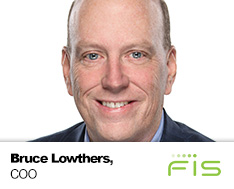 Bruce
Lowthers
 serves as chief operating officer of the Integrated Financial Solutions (IFS) organization. In this role, 
Lowthers
 is responsible for developing and delivering FIS' banking, wealth, payments and treasury offerings for financial institutions, retail, government and corporate clients in North America.
Previously, 
Lowthers
 served FIS in a number of executive positions, including head of the company's Payments business, head of Product Sales and Global Sales Operations and general manager of the Global Payments Software business. Prior to joining FIS, 
Lowthers
 held the position of senior vice president of Community Markets for eFunds, where he was responsible for the P&L for all payment and risk products for that market. He also held executive officer positions at four startup companies.
Lowthers
 currently serves on the board of P20, the new transatlantic payment experience. He also serves on the American Transaction Processors Coalition. 
Lowthers
 was named 2018 "Operations Executive of the Year" by the Best in Biz Awards, the only independent business awards program judged each year by prominent editors and reporters from top-tier publications in North America, 2017 "Maverick of the Year" by The American Business Awards and International Business Awards and "2017 World's Most Influential Payments Professional" by the World Payments Congress.
Lowthers
 holds a bachelor's degree in business administration from the University of Massachusetts and began his career as a certified public accountant.