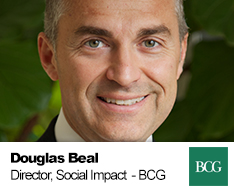 Douglas Beal is on the leadership teams of The Boston Consulting Group's Social Impact, Global Advantage, and Strategy practices.  Prior to his current role, Doug was the global head of BCG's economic development topic area.
Douglas works with the firm's largest private-sector clients to embed social impact into their core business operations.  He does this by arranging partnerships among the private sector, public sector, civil society, and philanthropic organizations. He also works with social businesses to improve their operations and strengthen their connections to the corporate and investment communities.
He has acquired extensive experience on strategies and organizational capabilities advising the private sector; governments; development organizations; and corporations in the US, Eastern Europe, Asia, the Middle East, and Africa. His expertise includes national development strategies, strategies for sector-cluster development, and enablers of overall economic and socioeconomic progress.
Douglas is the creator of BCG's Sustainable Economic Development Assessment (SEDA), a statistical benchmarking tool used by many national government leaders and development organizations to improve economic and socioeconomic conditions. SEDA has been featured in numerous internationally read business newspapers and magazines, including the Economist and Financial Times.
For many years Douglas worked in BCG's Dubai office as the Middle Eastern leader of the Social Impact practice. Before joining the firm in 2002, he was a principal at A. T. Kearney and a senior consultant at Accenture.
Areas of Expertise
Social impact
Economic and socioeconomic development strategies for countries, regions, and cities
Financial institutions
National cross-sector development strategies
Industry sector strategies
Government ministry transformations
Education
Strategies for foundations and for international and nongovernmental organizations
Impact investing and venture philanthropy
Education
MBA, with honors, Columbia Business School
BS, electrical engineering, Cornell University